Equipping families to grow together on their journey
to know, love and serve Jesus Christ.
Lea Joyner is excited to offer opportunities for children to have fun learning about God, Jesus, and the Bible!
Each Sunday morning, we offer Sunday School for all children 4 years old through 3rd grade
at 10am in Room 14. Every week, Kids have an engaging Bible lessons, complete a craft or mission project, and of course, eat a little snack.

Our Nursery is open from 8:30am to 12:30pm each Sunday morning for infants and children six weeks to 3 years old. LaDonna Harrison is the nursery director. Loving childcare is provided at all times by trained and dedicated childcare workers. For church wide events, children through the second grade may be included in childcare. All staff and volunteers undergo a national criminal background check before being approved to work or help with our children and youth.
Toddler Sunday School Classes
Lea Joyner Church offers a Sunday School class is designed for 2 and 3 year olds at 10:00. Toddlers are taught about Jesus and His love for them. During worship, these children are welcome to sit in the Sanctuary with their parents or go to the nursery.
Sunday Evening Kids
We hold a Kids ministry for all children 4 years old to 3rd grade every Sunday afternoon from 4-5:30 pm during the school year. Our kids love all the fun activities they do while exploring the scriptures and participating in mission activities! Drop-off and pick-up is in the CLC gym.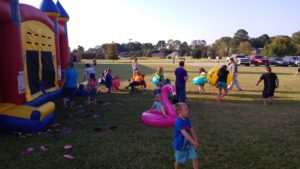 Check out the Church Calendar to see what events are coming up!