Evangelism can sound like an intimidating group of people to join, but we assure you, there are no "Billy Graham" requirements here. Our message is simple:
Life is Better with Faith
Daily life can be very stressful for anyone. We believe that Lea Joyner is a place where you can leave the stresses of life in the parking lot. Once you come in the doors of the church and begin to hear others sharing their joys and concerns in life, you immediately realize that YOU ARE NOT ALONE. Growth in faith gives you the confidence to not sweat the small stuff. As you further grow in faith, you learn that a lot of that stuff is small. So, stronger faith directly results in less stress (i.e. Life is Better with Faith).
Just Show up!
Lea Joyner Church wants to be the Church "for all people," including those who don't feel welcome anywhere else. We feel that people are always watching us to see if our welcome is genuine and if they will be able to fit in to our church. We never know who they may connect with or how it will happen. So, we encourage all people to just show up. Even something as small as sharing a joke with another church member may be what gives a person the confidence to visit our church.

"…to make HIM known"
We hope you will join us to fulfill the 2nd half of our church mission statement by making connections. Our group works to make connections with people in our community, other members within our church and other United Methodist Congregations. You can join in making these connections through any of our events!
YOUTH Drive/Walk Thru Passion Play
Just before Easter, our YOUTH perform a live outdoor drive/walk thru play presenting the last days of Christ. From the first scene to the last, a person can drive or walk through the entire play in approximately 15 minutes. Our group usually help with advertising, set construction and tear down as well as coordinate traffic control. All those that help during the play will dress in period clothing. We have plenty of period outfits for people to slip over their regular clothes.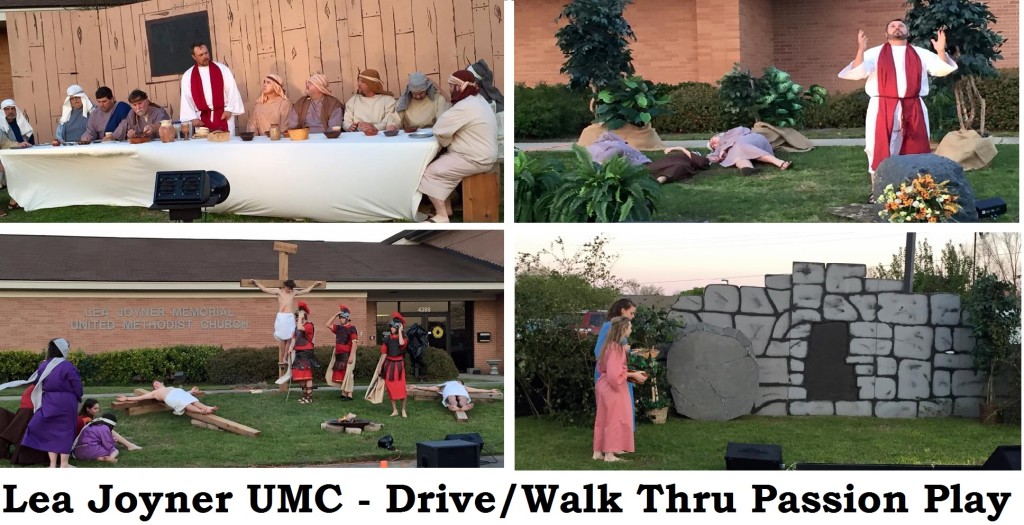 Hot Dog Giveaways
Every year, we find 3 or 4 places to simply hand out hot dogs, bottled water and a church invitation to our neighbors within a mile of the church. This is an easy way to get involved and make connections with people close to our church!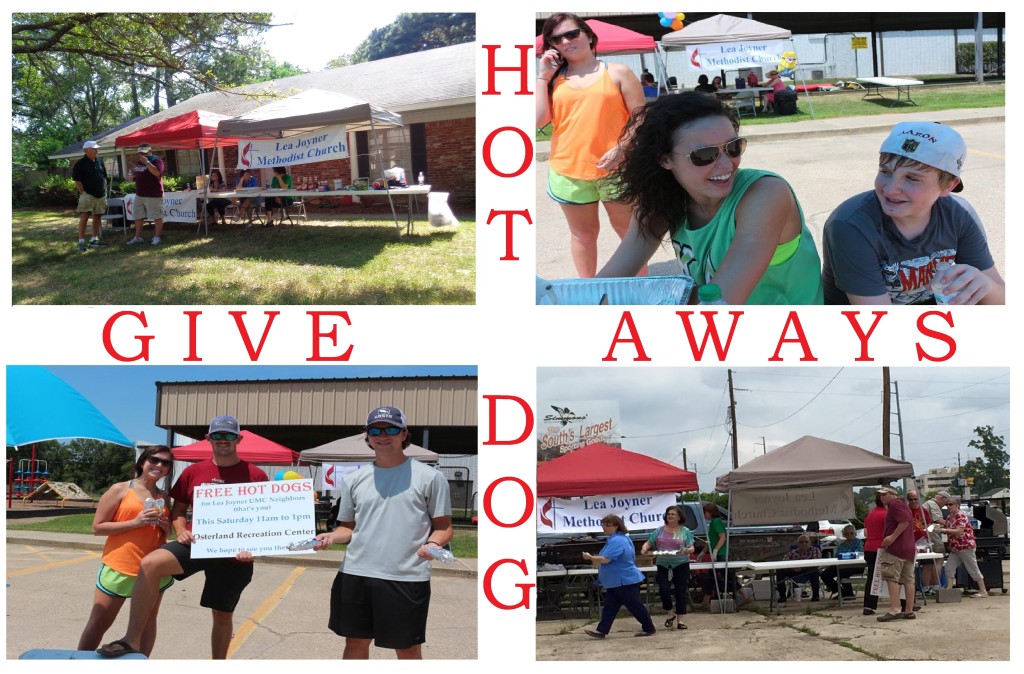 Outdoor Movie/Football
We have a great area in the back yard for projecting movies or sporting events onto the sanctuary. Movies can be shown anytime, and when the New Orleans Saints play on Sunday Night, we encourage our congregation and our neighbors to join us for the 1st half.
Blessing of the Animals
On the same day as the Monroe/West Monroe Mardi gras parade, the Krewe of Paws organize a "Mardi Gras Pet Parade." This event involves pet lovers presenting their pets as part of Mardi Gras Court and puling/walking them along a shortened route throwing beads and treats.
Sometime in October, the Ouachita River Valley Animal League sponsors "Bark in the Park." This is an event where runners sign up to complete a 5k run or a 1k walk with "man's best friend."
We have a tent at each of these locations offering the chance for people to have their pet blessed. Each pet will walk away with a new bandanna letting everyone know Lea Joyner Church blessed them that day.
Trick – R – Trunk
Halloween is the Super Bowl of Lea Joyner Evangelism events. Young parents from all over the Monroe area bring their kids out to our church for a safe and family friendly environment. Church members will line up around 5pm with decorated trunks to provide games and candy for over 1,000 people. If it rains (as we did in 2015), we move everything indoors to the CLC. This is a great opportunity to invite people to our church.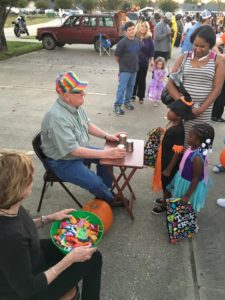 Children's Christmas Parade
The first week of December, the West Monroe Kiwanis Club sponsors a Christmas Parade. We build a float or floats, decorate and drive in the parade. As long as the weather is favorable, this is a fun and exciting event for our children, and is a great way for us to get the Lea Joyner name out into the community.