Evangelism can sound like an intimidating group of people to join, but we assure you, there are no "Billy Graham" requirements here. Our message is simple:
Life is Better with Faith
There are many reasons life is better with faith, including help through tough situations, comfort during times of grief, and the power to rejoice at all times. While some of this is possible without God, we believe the only way to achieve long-lasting peace is to trust in Jesus as our Lord and Savior.
Therefore, if you are struggling with faith, Lea Joyner can help.
If you are wondering whether God is real, Lea Joyner can help.
If you are wanting to grow in your relationships with God and people, Lea Joyner can help.
When you drive into our parking lot, feel free to leave the stress of life in your car. Once you walk in the doors of the church and hear others sharing their joys and concerns about life, you'll immediately realize YOU ARE NOT ALONE. We care about you. God cares about you. You will never be alone.
No matter how much faith you have, you'll always find your life improving as your faith increases. We encourage you to do that through Lea Joyner Church.
Just Show up!
Lea Joyner Church is a place for all people, including those who don't feel welcome anywhere else. This means whether you've been a leader at another church or you've been shunned by a dozen, you are welcome here. It also means whether you've always lived a perfect life, or wondered whether anyone could accept you because of the things you've done, Lea Joyner is a place for you.
Just show up! Let us show you what it means to be loved unconditionally.
"…to make HIM known"
The primary role of the Evangelism Team at Lea Joyner is to lead the church in fulfilling the 2nd half of our church mission statement (… to make Jesus known). We believe this is best accomplished through personal connections. The Evangelism Team coordinates opportunities for our church members to make connections with people in our community so we can understand their needs and desires and invite them to transform their life with us in Christ. Everyone is welcome to make these connections through any of our events!
Drive-Thru Passion Play
Lea Joyner Memorial Methodist Church will once again present a live-action performance of the events leading up to the crucifixion and resurrection of Jesus Christ on Sunday, March 26, and Monday, March 27, at 7 PM each night in the parking lot in front of the church. Visitors can drive or walk to each of the four scenes. Each scene is around 4 minutes long. Lea Joyner Church is at 4390 Old Sterlington Rd. in Monroe. For more info, reach out on Facebook or call the church office at 318-343-0073.
Blessing of the Animals
Before the Krewe of Paws "Mardi Gras Pet Parade" and the Ouachita River Valley Animal League's "Bark in the Park", w
e set up a tent to offer people the chance to have their pet blessed. Each pet walked away with a new bandanna letting everyone know Lea Joyner Church blessed them that day.
Trick – R – Trunk
On Halloween night, Lea Joyner hosts a Trick 'R Trunk in our church parking lot, where parents from all over the community bring their kids for a safe and family friendly environment. Church members decorate their trunks and provide games and candy for everyone (sometimes over 1,000 people!).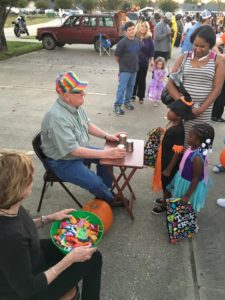 Children's Christmas Parade
We regularly participate in the Kiwanis Club's Christmas Parade. Our Kids and Tweens pile onto a homemade float and throw candy and beads to everyone along the route. When the weather cooperates, this is a lot of fun, and a great way to get the Lea Joyner name out into the community.